UX research for a coworking platform
Duration
May - June 2021
Product

Foundational Research

Prototype link
Responsibilities

Affinity diagrams

Conducting interviews

Contingency table

Research preparation

Transciption and analysis

User personas

Role

UX Researcher

Team
Dany Stecova
Market Opportunity
Problem
Goal
During Covid times, when the majority of the offices were closed, many people, especially from colder, northern countries in Europe decided to spend a few weeks, or even months in a different location, which would allow them to enjoy sunny and warm weather. These people wanted to do something interesting in the evenings and over the weekends while working during the weekdays. A quick scan through Airbnb or other accommodations revealed that the majority were not equipped with working stations or quality internet, thus potentially discouraging people from travelling.
Coworking spaces have been traditionally advertised to digital nomads or people with long-term home arrangements. Moreover, some of the more popular coworking platforms suffered from frequent miscommunication and mismanagement when booking spots, further diminishing the chances of using their services. The gap in targeting and servicing the new type of users, the office workers, prompted the founding team to think of a solution that could bring value to the users and the coworking spaces.
The goal was then to conduct foundational research to validate the market opportunity and assumptions about the problems that workers were experiencing when considering working from abroad. The research insights were then used as a basis for the design of the coworking services and the creation of user personas.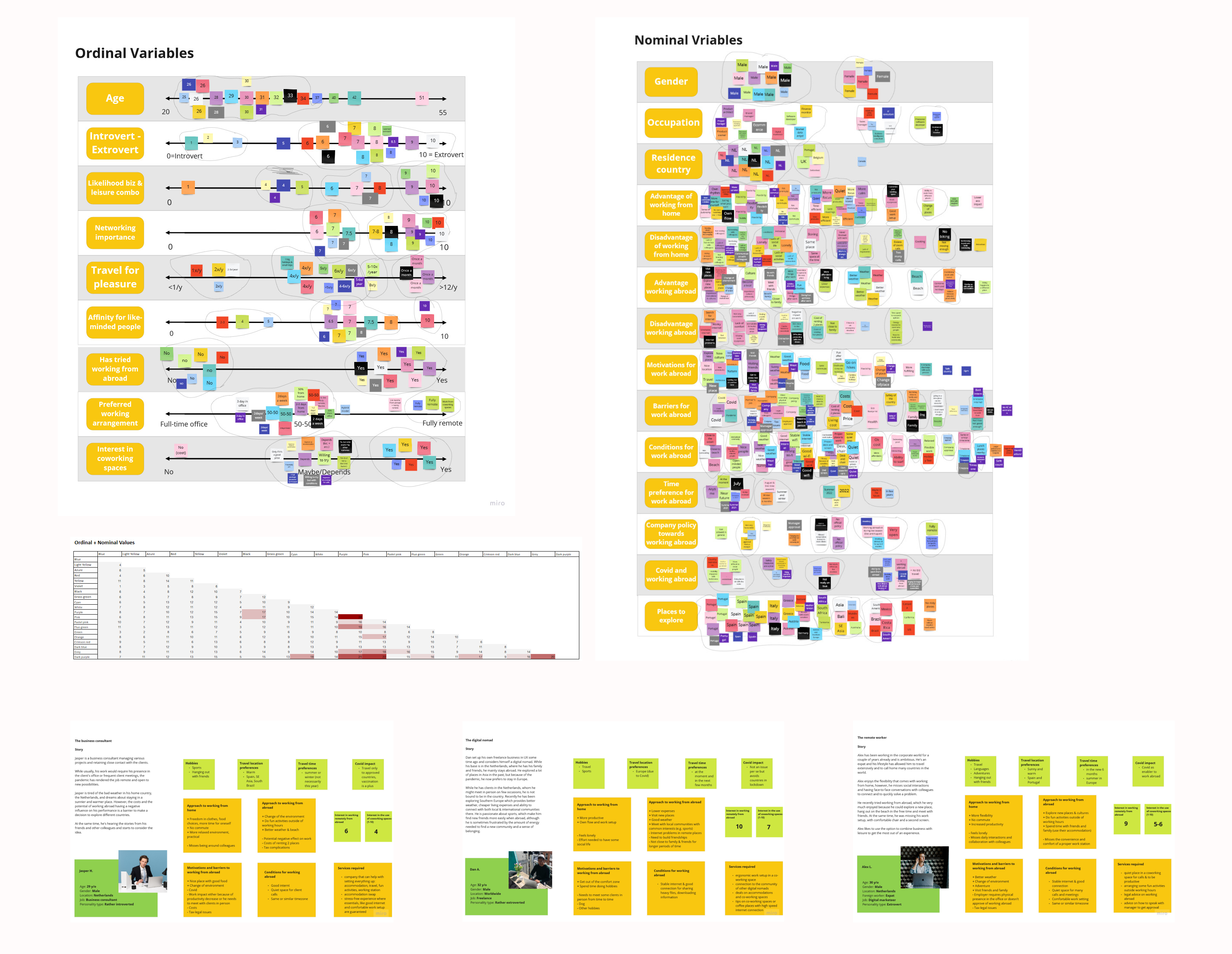 Process
Initial assumptions

In the beginning, we operated with two assumptions:

The pandemic has brought about greater flexibility to office workers in terms of working locations.

While working from home has benefited many, staying home all the time, especially while the weather is bad, has pushed people to experiment with working abroad, predominantly from southern European countries like Spain and Portugal.
Methodology

Semi-structured 30 min online interviews with 20 people were conducted over two weeks in May 2021.

Participants: 40% female and 60% male coming from UK, Switzerland, Netherlands, Belgium, Austria, Poland

Use of Otter.ai transcription

Interview questions were crafted to reflect the research goals and were tested with few users in advance to account for any bias, and lack of concreteness.
Research Analysis

After the initial analysis, I created two tables in Miro, one with nominal and the other with ordinal variables. I assigned each participant a different colour and started plotting their answers in the two tables to detect any similarities in their answers.

After mapping all the insights, I proceeded to create a contingency table, in order to understand which participants had the most in common. The results then informed the next step, namely creating personas.
User personas

Based on the findings derived from the affinity diagrams and contigency tables, I created three distinct user personas that represented different scales of job flexibility and propensity to remotely work from abroad. These insights then served to design the service offerings of the new coworking platform.
Learnings
Double-checking research questions
I learned about the importance to collaborate with others to spot and eliminate potential biases, leading questions and ambiguous phrasing, to secure objective results. It is always better to run the questions by others as we may not be aware of our own biases.
Staying impartial during interviews
When conducting interviews, it may be tempting to nod or to provide one's opinions, however, this may temper with the results, as the interviewees may be led to answer questions in a way that pleases the interviewer. It is important, therefore, to be aware of one's behaviour by checking past recordings and creating mental guardrails against potentially leading reactions.